Regular price
$69.95 USD
Sale price
$49.95 USD
Unit price
per
Sale
Sold out
In stock
EASILY IMPROVE YOUR GOLF SWING
Introducing the ultimate golf swing trainer – the perfect tool for golfers of all levels who want to improve their swing and lower their score. Whether you're a beginner or a seasoned pro, this innovative training aid will help you perfect your swing mechanics and gain confidence on the course.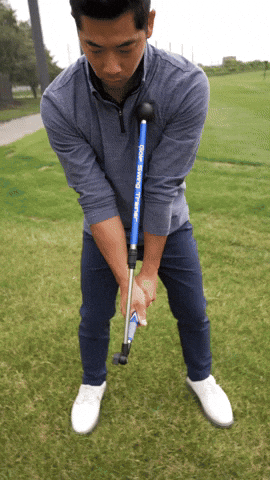 Crafted from high-quality materials and designed with ergonomics in mind, this swing trainer is built to last and is comfortable to use. It features an adjustable wrist strap to ensure a secure fit, and a flexible shaft that mimics the feel of a real golf club. The unique design helps golfers improve their swing path and promotes a smooth, consistent swing.

The golf swing trainer is easy to use – simply attach it to your lead arm and start swinging. The flexible shaft will help you feel the correct motion and release, allowing you to develop muscle memory and build a repeatable swing. With regular use, you'll start seeing improvements in your swing and overall game.
This swing trainer is also lightweight and portable, making it easy to take with you wherever you go. Whether you're practicing at the driving range, in your backyard, or on the course, this training aid is the perfect companion for any golfer.
So why wait? Take your game to the next level and start swinging with confidence. Get your hands on the golf swing trainer today and start improving your game!
Shipping

We offer Free worldwide shipping on all orders! All orders take 6-12 business days to be delivered depending on your location.
30-Day Guarantee

All orders include a 30 day guarentee. If anything happens within 30 days of recieving your product, contact our support team for a swift and active reposnse.
View full details